A Look Inside the Professional Film Sets at Full Sail
Published on Mar 27, 2020 by Bridgette Cude
Full Sail's Hollywood-style backlot and versatile soundstages
Full Sail film students have access to a wide range of professional film sets right here on campus. Our indoor soundstage can be built up into almost any setting imaginable, while our outdoor backlot can take you from the Big Apple to the Big Easy in seconds. With so many possibilities, your options for setting the scene are virtually unlimited. Here are just some of the film facilities available to our students:
Film Backlot
This gas station set can be decorated to look current with products and ads or it can be dressed down to indicate a post-apocalyptic world in a zombie film.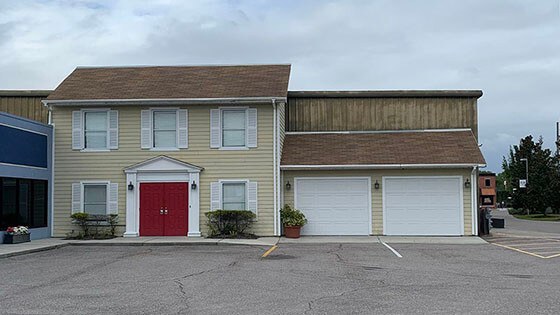 There is a house backdrop on campus that has proven useful in many types of suburban scenes.
One of the most popular sets on campus is that of these New York City brownstones, which lend themselves to a variety of stories – even outside of NYC. Students might shoot short films, documentary-style content, or even music videos against this backdrop.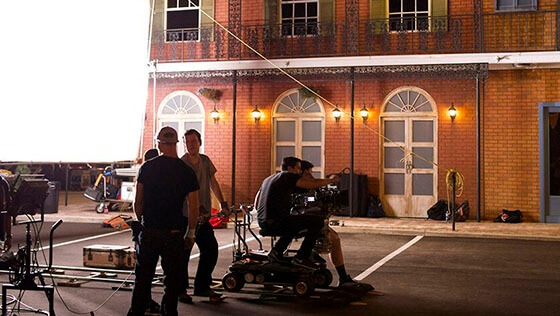 Some may use this corner set to represent Bourbon St. in New Orleans while others may modify it into other creative ideas, like a haunted house. Either way, this facade and the ones surrounding it are often used to show characters walking down the sidewalk to different destinations or even entering the small businesses positioned along the street, such as a bar or pizza place.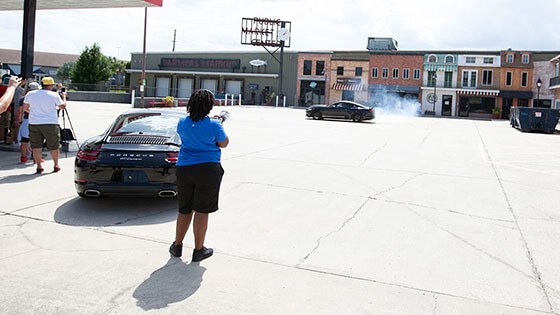 Students can film a scene taking place at the famous Pike Place Market in Seattle or show characters working on the multi-purpose loading docks next to it – often as part of crime drama shoots.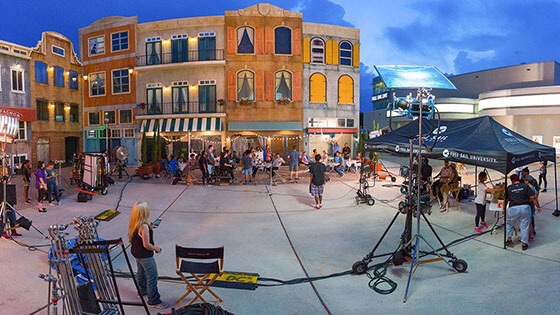 Known on campus as "Amsterdam," this strip of building facades is often used by students to depict scenes abroad. It has been featured as a café in Italy and much more throughout Europe.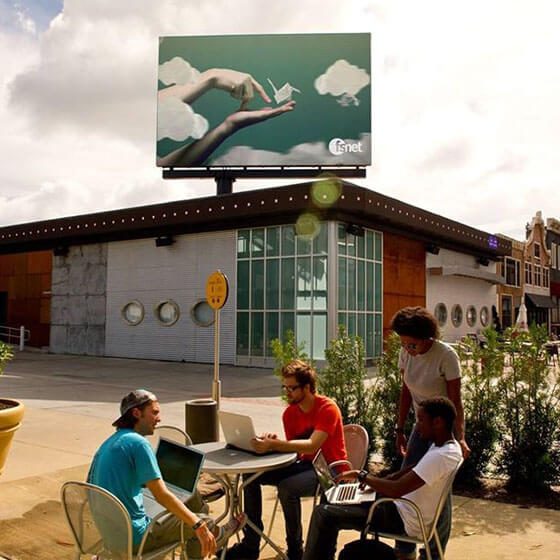 The 25-foot campus display screen is not only a helpful way to learn about campus news and updates, but also a great way to see student projects! Students can submit their short films, music videos, or other work to be showcased on the display, providing an invaluable opportunity to showcase their skills, land a new gig, or simply inspire their fellow students.
Film Soundstage
Every month, students in the film program have just three weeks to shoot an entire short film — including building and striking an original set. In this space, students have staged a wide range of settings for their projects. They've made offices, homes, haunted cabins, train interiors, and more. With access to lumber, table saws, other power tools, and paint, as well as lessons on art direction and lighting, they can be sure to set up scenes that tell the stories they envision.
Watch it happen here:
Want to learn more? Explore our film and television degree programs.