Cave Diving Dwarves & Other 'Unconventional' RPG Characters
Published on Jan 14, 2014 by Full Sail Blog
Dr. Christopher "Tof" Eklund is a longtime fantasy role-playing fan. And while the Creative Writing Course Director hasn't tired of characters like dwarves, elves, and dragons in games, he has tired of their traditional interpretations. So to breathe new life into old tropes, Eklund collaborated with other writers and artists to produce The Unconventional Dwarf, a sourcebook for game-makers that offers eight alternatives to your typical axe-wielding, gem-besotted dwarf.
"The Unconventional Dwarf is a book that is full of story hooks and world-building advice. Role-players can directly use it to bring some of the unconventional dwarves into their games," says Eklund. "The goal of the series is to question clichés in fantasy gaming and offer fresh, exciting alternatives. So, in The Unconventional Dwarf, instead of all fantasy dwarves being just like Gimli from Lord of the Rings, there are chapters on cave-diving tropical dwarves, celebrity-obsessed fame-seeking dwarves, even shape-shifting dwarves from outer space."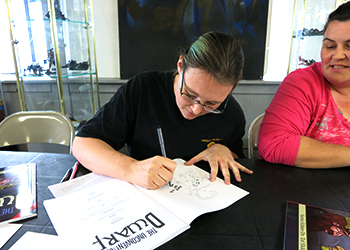 Eklund serves as the editor for the book, and six of the eight other contributors are Full Sail alumni. Jennifer Brown and Amy Walraven both graduated from the Creative Writing master of fine arts degree program, and both contributed to the Unconventional Dwarf and its sequel, The Unconventional Elf. In December, Eklund and both grads were at Sci-Fi City in Orlando for a book-signing event.
At a table piled with copies of the book, Amy described the cave diving, webbed-footed 'Thalassic Dwarves,' one of her contributions: "The dwarves mine underwater. They have a conflict with mermaids mostly, and they harvest a sludge that can give them a euphoric effect. They go into blue holes and they use the sludge to be able to breathe underwater."
Some of the unconventional elves found in the next book include ocean-dwelling elves and "crystal elves," a race of elves that lives underground.
Published by Spectacle Publishing Media Group, the book and its successors are aimed largely at the Dungeon and Dragons audience. "The Unconventional Dwarf is a book for people who, play, run, and/or design fantasy games, like Dungeons and Dragons," says Eklund. "It's intended mainly for tabletop role-playing, but also applicable to video game design."
The next book in the series, The Unconventional Elf, is due out this spring, with The Unconventional Halfling to follow. "If all goes well," says Eklund, "we plan to do a series on Unconventional Monsters, including unconventional dragons and the unconventional undead."