Central Florida Companies Honored at Industry Innovation Awards in Full Sail Live
Published on Sep 27, 2013 by Amy Cassell
Every year, the Metro Orlando Economic Development Commission (EDC) honors local companies and organizations for their innovative practices and their positive impact on the Central Florida region during the William C. Schwartz Industry Innovation Awards. This year's awards luncheon was held yesterday in the Full Sail Live Venue, and five Orlando-area businesses (plus one local government agency) were recognized for their achievements.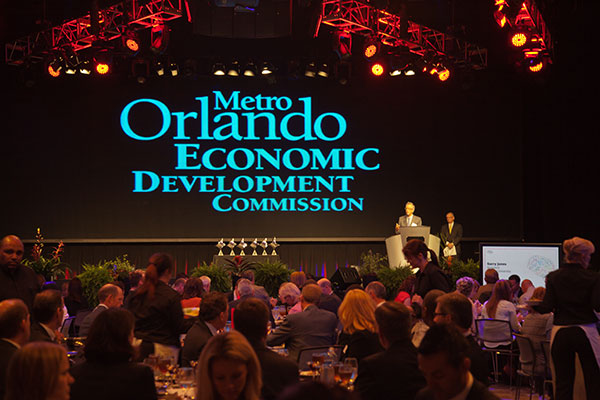 The luncheon included a keynote speech from Full Sail President Garry Jones, who congratulated the companies honored and discussed Full Sail's own innovative nature and ties to the local film and digital media industry. One of those ties he mentioned was Full Sail grad Sheena Fowler, the Orlando Film Commissioner who oversees the Metro Orlando Film & Entertainment Commission, which is a division of the EDC.
This year's William C. Schwartz Industry Innovation Award winners included Employment Technologies Corp., Garmor Inc., Intelligent Decisions Inc., Osceola County's Community Development Department, Quality Manufacturing Services Inc., and Vista Clinical Diagnostics LLC. The Metro Orlando Economic Development Commission is a non-profit that works to help existing businesses and welcome new ones across four Central Florida counties: Orange, Seminole, Lake, and Osceola.