Check Out These Great Typography Design Websites
Published on Jun 18, 2013 by Amy Cassell
Designers obsessed with fonts and creating visually-stunning work out of letters already know that you can spend hours (or possibly even days) browsing the Internet for various examples of great typography design. If you're looking for some inspiration, check out this list of favorites curated by Suzanne Johnson, Digital Publishing Course Director in Full Sail's Digital Arts & Design program. "But mind your P's and Q's," she says. "Remember inspiration, not imitation."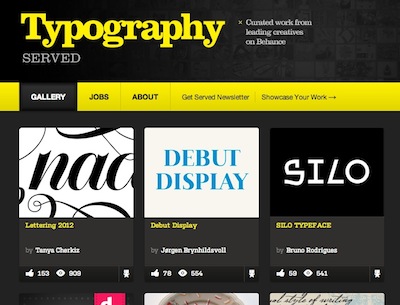 Typography Served. "Curated by the pros over at Behance.net, this site is really great for current one-shots of what people are working on and typefaces that are currently trending. You may find that some of these are available for download or purchase. Support your artists; respect the type!"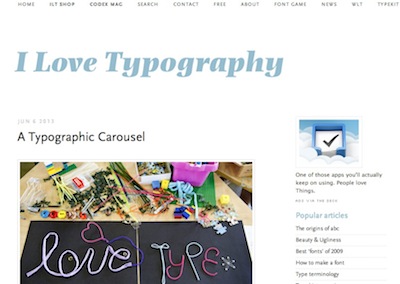 I Love Typography. "A little more in-depth and educated, this blog has a really great 'Week in Type' feature that highlights the newest of the new from foundries across the U.S. and world. The site also offers the famous The Font Game app, where you can find out if you really know the difference between Ariel and Helvetica."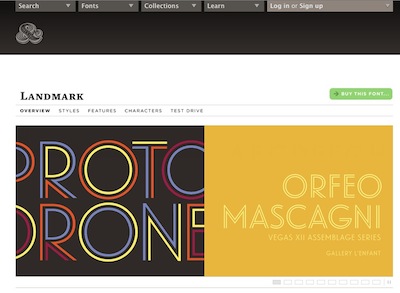 We Love Typography. "Associated with I Love Typography (mentioned above), this site is great because you can search by color, customize the page grid, and get random inspiration of notable designs utilizing typography or just fonts in general."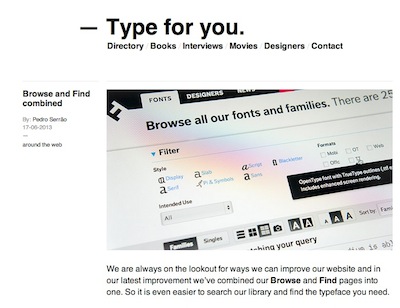 Type for You. "Really great content on the conceptual use of typography and some of the awesome work that utilizes typography as a main focus in design."
If you're more interested into looking at the details of specific typefaces, check out these three typographic games.
Shape Type: a letter shaping game.
Kern Type: a letter spacing game.
Type Connection: a "dating game" that pairs typefaces based on nuance in character.