Full Sail Celebrates May the 4th With 'Star Wars' Fan Project
Published on Jul 3, 2023 by Jess Reider
Students, faculty, and staff worked together to create a short fan film in celebration of 'Star Wars' Day.
This year at Full Sail, we celebrated May the 4th (or "Star Wars Day") with a fan film created in collaboration with Full Sail students, faculty, and staff. With the contributions of nearly 40 Full Sail community members, the short fan film brought viewers into the rich and immersive worlds of the Star Wars universe with the help of Full Sail's on-campus virtual production studio, Studio V1.
"While the idea began with the Studio V1 and Social Media teams, the exceptional contributions from faculty and students played a critical role in bringing the project to life," shares Full Sail Social Media Manager Kathleen Durkin, who spearheaded the project along with Full Sail faculty members Marcella Willbanks and Rick Ramsey.
Faculty and students from Film, Digital Cinematography, Game Art, and Computer Animation lent their skills to the project alongside staff from departments including Social Media, Marketing, and Admissions.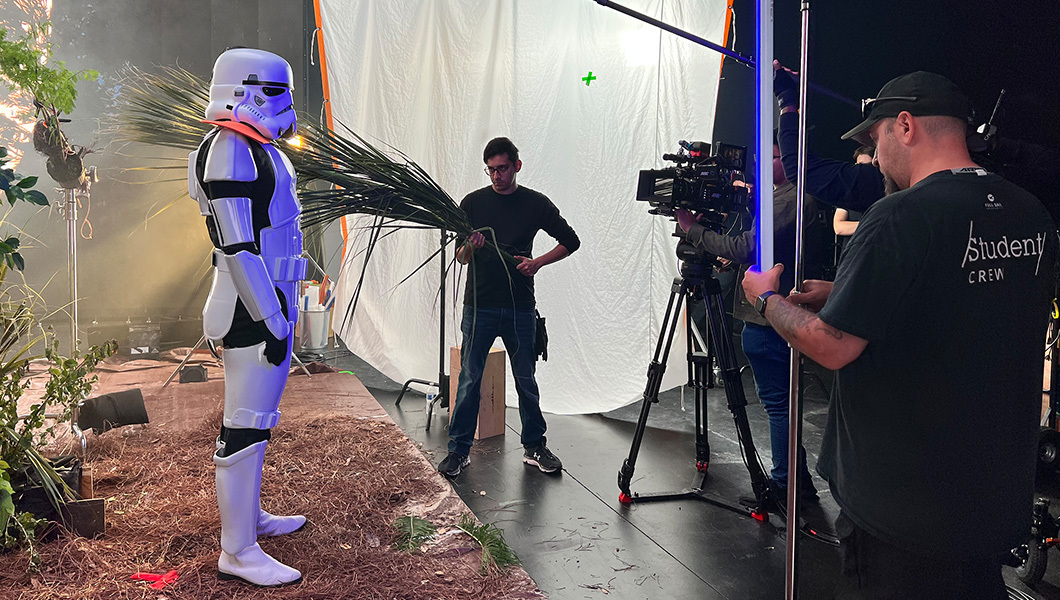 An actor in a film-quality Stormtrooper outfit recording a scene for Full Sail's Star Wars fan film.
"We had a great time working on the project," Kathleen says of their second collaboration with the Studio V1 crew. "Many of us at Full Sail have a lifelong love for Star Wars and asking staff if they wanted to be a Stormtrooper or a Jedi is the kind of request that only happens at Full Sail. The passion everyone brought to set made for smooth production days and we were able to get a lot of coverage in a short amount of time. Seeing the project thrive through the collective efforts of diverse expertise was truly inspiring."
Student contributions included collaborations like that of Computer Animation student Artem Kaptur, who rendered a scene featuring a bunker he modeled and textured while Game Art student Sam Pilla was involved in planning and building the film's environments.
"It was a fun challenge to bring together a talented group to push the boundaries of what has been done before in Studio V1, while also providing an opportunity for students to play an important role," says Kathleen.