Full Sail University Grads & Staff Finalists at SPORTY Awards
Published on Jun 8, 2023 by Jess Reider
Full Sail is excited to share that university staff members and graduates have been named as finalists in a range of categories at the 2023 Greater Orlando Sports Commission SPORTY Awards.
The annual award show honors sports business professionals whose contributions and impact are vital in making Greater Orlando one of the country's premier sports destinations. With more than 50 finalists being recognized each year in 2020 and 2021 and more than 60 finalists recognized in 2022, the SPORTYS showcase all that is being done by the hard-working professionals in Greater Orlando's sports ecosystem.
Full Sail's growing influence in the world of sports can be credited to the nominees representing the university in this year's award show. Full Sail affiliates were nominated as finalists in several categories including Best in Corporate Partnerships (Josh Mora, Executive Director of Strategic Partnerships), Best in Venue Operations (Sade Battle, Marketing & Branding Director at Andy Frain Services, Entertainment Business graduate), Best in Media, Communications, & PR (Bennett Newsome, Director of Esports Growth & Development), and Best in Social Responsibility (Sari Kitelyn, Director of Esports & Project Development).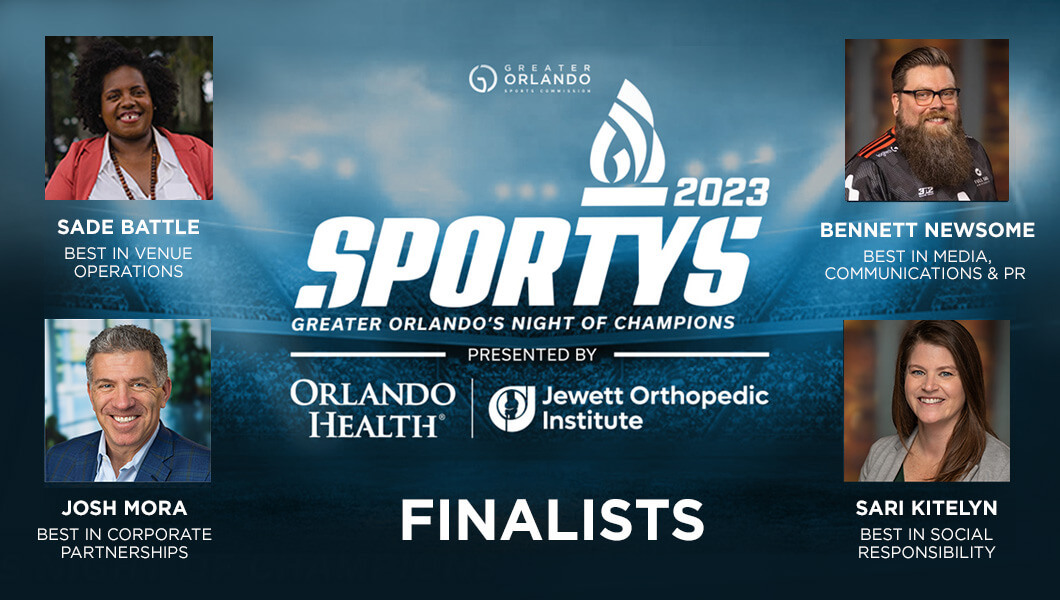 Full Sail affiliates featured on a finalists graphics for the 2023 Greater Orlando Sports Commission SPORTY Awards.
Earning nominations in four of the show's 11 categories, Full Sail's commitment to enriching the Greater Orlando sports community has included growing collegiate esports in Central Florida, serving as the host site for the 2022 Special Olympics USA Games Unified Esports Invitational, and preparing students for careers in the industry in programs including the Dan Patrick School of Sportscasting and Entertainment Business master's (Sports Management).
Don't miss the SPORTY Awards and see the winners revealed live from Full Sail University during the broadcast on Saturday, June 17 from 7-8 PM ET on WKMG-TV News 6.