Grad Brandon Lorenz: Senior Web Developer for Victoria's Secret
Published on Aug 14, 2014 by James Gregory
Going from an eight-year tour of duty in the U.S. Marine Corps to a senior web developer for Victoria's Secret might not seem like your standard path, but Game Development graduate Brandon Lorenz has followed his love of emerging technology into a role helping innovate the online presence for one of the nation's biggest fashion icons.
"I saw so much promise in web, it was a new area for me to try to figure out, and that really appealed to me," he says. "There's a lot of applications of different disciplines to utilize in that area, and I had a solid foundation coming from Full Sail thanks to the software development curriculum."
"The environment and culture at Victoria's Secret is also really focused on a great work/life balance. They have a strong emphasis on the associate, and they do a lot of philanthropy – we recently had a bike ride in support of a local cancer organization. It's just a great workplace."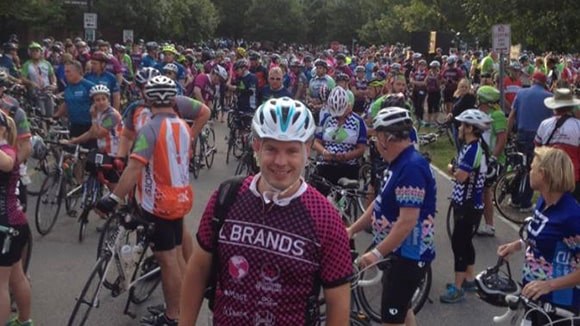 Brandon was courted by the company in 2011 (following a year of web consulting for Abercrombie & Fitch), and has since been working at their Columbus, Ohio headquarters as senior end-to-end web developer. During that time he has helped create the site functionality for their popular Pink Nation line, manage various online campaigns and sweepstakes, as well as help deliver the second screen experience for the annual Victoria's Secret Fashion Show.
"What I do during my day-to-day is the back end development, like when you go to a page and it retrieves news that's relevant to you and makes suggestions through a mix of disciplines," he says. "It's almost like a data scientist, where you're trying to reduce the friction between the application and the user, and there's a lot of creative challenges that you have to resolve."
"We also get a range of other projects throughout the year to change things up, and being a part of something as big as the Fashion Show was a great experience. I helped run the whole coordination of the web experience while it was going live – the social media interactions and contests. It was a challenge, but there's such a satisfaction in web when everything comes together and works on that scale."
Being involved with the web efforts for a company of this size also tasks Brandon with staying on top of emerging trends in his field. As he explained, the lines between the Internet and the physical world continue to blur, something which young programmers looking to be a part of the future of web design will have to be prepared for.
"It's an exciting time to be a web developer because there's all kinds of new technologies coming and this field is getting massive," he says. "I think what's next is very service-oriented web design that responds to who exactly is using it and adapting it to them. A lot of devices are also going to be connected – like your refrigerator and dishwasher will be talking to each other."
"So if you want to work in this industry you have to be someone who loves to learn because you're going to have to get used to jumping from one technology to another. Being able to adapt to change and still have ownership over the systems I'm in charge of has yielded me a lot of good results. I really thrive on that challenge."