How to Figure Out Your News Feed
Published on Jun 5, 2014 by Amy Cassell
Update: In November 2018, Full Sail's Internet Marketing programs were updated and are now Digital Marketing Bachelor's, Digital Marketing Master's, and Digital Marketing Certificate.
There's a reason why you may feel like you always see the same friends, bands, and companies showing up in your news feed every time you're on Facebook – the social networking site's engineers have created an advanced algorithm that customizes what you see based on what you're most interested in. So pretty much, whether you think you are or not, you do control your news feed.
When you're a brand new Facebook user, your feed will show all of your friends and everyone you follow, says Internet Marketing Course Director Amy Burrows (She teaches Public Relations in the Bachelor's program and Strategic Internet Public Relations in the Master's program). Over time, Facebook customizes your feed based on what you're interacting with and what you're skipping over.
"Say I'm friends with you on Facebook, and every time you post a really long update, I always click 'Read More,'" says Amy. "Facebook notices that and shows me all of your updates. But if I never click on or like your updates, I'm going to stop seeing them, because it's something I'm consciously ignoring."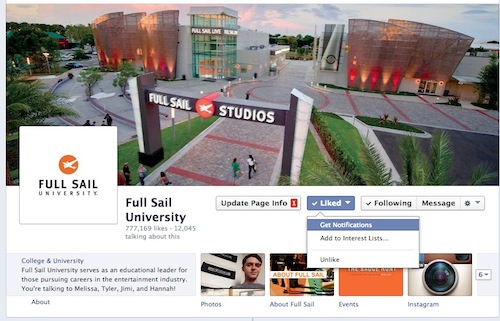 Algorithm aside, if you still feel like you're missing important updates from your friends, Amy suggests using the Groups feature to create your own custom feed. (On the left hand side of the your news feed, select Groups, then "Create Group," and add the friends you want to see to the list.) Amy says you can also manually subscribe to receive notifications from certain friends, bands, or companies to guarantee you'll see all of their updates. To do that, just visit their profile page and click the "Friends" or "Liked" tab on their cover photo and select the "Get Notifications" option (shown here in this screenshot).
From the other side of the spectrum, if you're a musician, a filmmaker, or you own a business, and you're wondering if people are seeing your updates, Amy says the key to staying in users' news feeds is to provide them with value and give them a reason to engage.
"As a brand, engagement is going to help your page be successful," says Amy. "You have to ask yourself, 'What am I giving my fans with the content I'm posting?' If you're a dental office and you're constantly telling me to floss, I may not be interested in that. There has to be user value."
The algorithm is a good thing, says Amy, because it's Facebook working to help you customize your experience. Hopefully when you're scrolling through your news feed, you'll enjoy what you see.