Interview: Design Advice From Allan Peters
Published on Jun 5, 2014 by Amy Cassell
Students had the chance last month to attend the latest event hosted by AIGA Orlando, a presentation from Target Associate Creative Director Allan Peters. Allan's talk (called "The Badge Hunt") was held in the Entertainment Business Auditorium and was an inspiring look at his journey, which has included gigs at small graphic design shops, well-known agency BBDO, and Target's in-house creative department in Minneapolis. Allan shared several behind-the-scenes photos and design work from recent Target campaigns, along with some of his own freelance and personal projects as well.
We sat down with Allan before his talk and he gave us some insight into his work, what he's currently up to at Target, and what his best advice is for young designers.
Full Sail: How different is your creative process when working at small boutique firm as compared to working at a bigger agency?
Allan Peters: My background is in design so my schooling and my first few jobs were all design focused. When I transitioned into the Advertising field at BBDO I learned a whole new craft. Design-focused shops tend to make very visual work with a strong esthetic. They don't tend to focus on a clever idea. On the other side of the fence, ad shops focus on the clever idea but tend to not focus on the design esthetic of the work.
Obviously there are exceptions in both cases. I really found something special when I moved in-house to Target. Finally I was working on a brand that valued both the idea and design of everything. I feel like both the ad shops and design shops helped train me for this position.
FS: Would you say your personal style has evolved?
AP: Totally. You have to stay hungry. I was taught to always make every project better then the last. When you come up with and idea and you know you've nailed it ­ that high is the best feeling. It's what I try to recapture over and over again. It's the driving force of being a creative.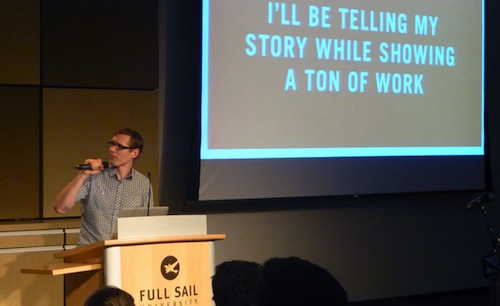 FS: Target's brand is so iconic – ­ when you think of Target, you see the bullseye. How do you find ways to keep that iconic brand unique?
AP: The Target logo has got to be one of the most simple logos on the planet. It's a couple of circles inside of each other, and you can spin it in any direction and it looks the same. That minimalism filters into the work. Target designs usually have a general aesthetic: simple, bright color, a pop-art feel, a lot of negative space and a clever idea. But there's no general, "It always looks just like this."
FS: What's a typical day like at Target?
AP: I'll usually work on 5-7 projects at a time and everyday is totally different. I work on everything from logos to broadcast. One thing I try to always do on a daily basis is to draw. I love how quick you can generate ideas with paper and pencil.
FS: What's something you know now that you wish you knew when you were in school?
AP: Do passion projects outside of work. When we're hiring at Target that's always one thing I specifically ask candidates: Have they done some work on the side just because they love design? It can be posters, freelance projects, or fun pro-bono things; as long as it shows that they're passionate about design and they love doing it.