Mobile Development Grad's App Lets Users Review Anything and Everything
Published on Mar 23, 2016 by Stephanie Rizzo
As a Senior Mobile UI Developer for Tonic Design, a marketing and branding agency based out of Philadelphia, PA, Patrick Adams spends a lot of time thinking about (and relaying) feedback.
"I work with designers to educate them on the design constraints we developers work with, and they in turn educate me on the design environment. I take that information back to the development team and we work to streamline the process between development and design," says Patrick, a 2014 graduate of Full Sail's Mobile Development program.
In addition to his experience as a developer, Patrick has always loved iOS as a developer's platform. At Tonic, he learned to "code clean," meaning looking at the development process as an opportunity to work smarter and not harder by incorporating a rigorous code review process into the pipeline. This was at the forefront of his mind when he started thinking of ways to combine his passion for transparent and honest feedback with his passion for iOS development.
Late last year, Patrick released RVWR, a mobile app that allows users to review everything from goods and services to media. The idea is to collate all of a user's reviews under one simple to use ecosystem, eliminating the need to hop from app to app based on what it is a person is trying to vet or review.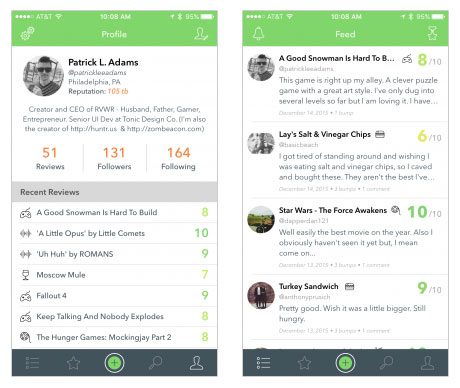 "Our target audience is anyone who would like to share their opinion, which, from my understanding, is a majority of people. The reviews scene is very segmented—you can turn to Amazon for product reviews, Rotten Tomatoes for movie reviews, and clothing retailers for clothing reviews. But where can you go to read what your friends are buying, watching, playing, eating, and wearing? That's where RVWR comes in."
Users can share and "bump" their favorite reviews—the more bumps a review has, the more people will see it. Reviewers can also add photos, location information, and keep the conversation going through the app's built-in commenting system.
It's this aspect of social interaction that separates RVWR from other apps, especially. Because all of the reviews on your feed come from your friends, you're more likely to trust their opinions as opposed to those of strangers. Not only that, but the circumstances surrounding your consumption habits are more likely to align with people in your peer group, which lends a deeper level of context to each review.
Another thing that sets RVWR apart is the UI, which is both clean and intuitive.
"With RVWR, I wanted to make something that felt familiar. Hence the reason it looks a lot like Twitter," says Patrick.
"A lot of people say great UI is when the user doesn't have to think about it. It just feels natural," he adds. "I agree with this, but I believe it has to look good at the same time."
In the year since its release, RVWR has seen several stages of iteration based on feedback from users, and Patrick has committed to rolling out updates as the platform continues to change and grow.
"At this point [the users] will decide the direction the app goes. Software is great because you are never stuck with something you can't make better."