On Tour: What Went Wrong!
Published on Jun 4, 2013 by Full Sail Blog
MacGyver's got nothing on some rock show engineers. When there are thousands of high-spirited fans expecting a show and a critical component goes out… that's pressure.
But problem-solving and working with less than ideal conditions (or adapting to emergencies) is part of the job description.
Here are some of the more interesting 'What went wrong' stories we've heard from live sound pros on Full Sail's campus.
Power Problems in Lagos, Nigeria
Before Course Director John Sheldon started teaching live sound techniques to students in Full Sail's Show Production Bachelor of Science degree program, he spent 15 years touring with many headliners – including Ozzy Osbourne, the Smashing Pumpkins, Guns N' Roses, R. Kelly, Erykah Badu, TLC, George Strait, KISS, the Beastie Boys, Prince, and more. His work as a monitor engineer has taken him all over the U.S. and to locales in Europe, South America, Asia, and Africa. And it was in Africa, while on tour with R. Kelly, that he ran into a particularly challenging problem.
"I was in Lagos, Nigeria doing a show with R. Kelly. The show buyer set a tent up in a parking lot of a hotel to do a private event for a couple hundred of his closest friends. All they had access to were basically single brick fuse panels; [so] we got "hot" power to us fine, but the biggest part with audio and lighting and video in the live realm, is [that the] ground [connection] has to be good.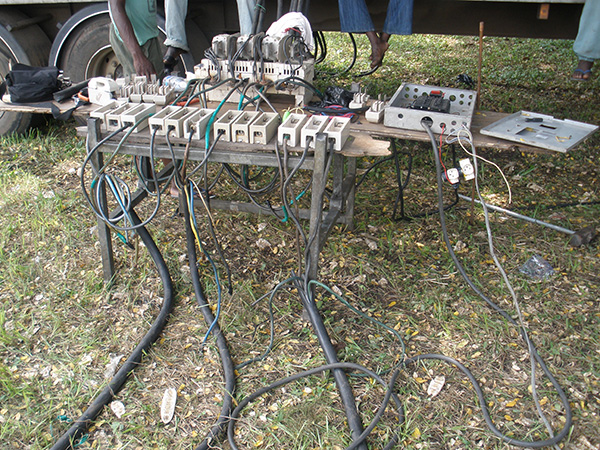 "Each one of these [fuse panels] is effectively a 400-amp breaker that's just exposed bare wire. This is so dangerous; it is unbelievably dangerous. We were getting buzzes, the system wasn't working correctly, and actually our lighting guy was having a problem getting his console to turn on because it wasn't 'seeing' a proper ground. We had our guitar player come in, and we couldn't get his guitar amp to stop buzzing really loud. All that drew us to look at the power. Once we started looking at what they were doing, first off, we got really concerned – and we didn't get too close – but then we discovered that they hadn't grounded their truck. They had grounded everything to the truck, but it effectively was a floating ground at the truck, and they had no permanent ground.
"I had to go out there and get a translator to translate in the native language and explain to these gentlemen that we needed them to bury a ground rod," which, according to Sheldon, turned out to be a piece of rebar.
Problem solved. But the lesson, as Sheldon explains, is bigger than just finding some scrap metal to use as a ground connection.
"If you're touring internationally, you have to understand what you're doing and understand what other people are there to do. And while it might differ from what you know and what you've been exposed to, you have to understand every part about it. What we do, especially on the live side, it all starts with power. If your power's not right, it doesn't matter how good you mix, it doesn't matter how good you can make lights, none of that matters if your power's wrong."
New Year's Eve 'Monsoon' in Houston, TX
Full Sail Course Director Dave Dean is another veteran sound engineer now teaching in the Show Production program. In between classes and during holidays, Dean still manages to moonlight as a sound engineer. Recently, Dean was contracted to work the city of Houston's 2012 New Year's Eve celebration for headliners KC & the Sunshine Band. Despite the fact that Houston was officially in a drought, the festivities were dampened by a lengthy downpour.
"It was a huge production; the city of Houston was the promoter. It was their big New Year's Eve celebration. They were even going to have a network cut-to by ABC. The problem was, there was a massive front coming through.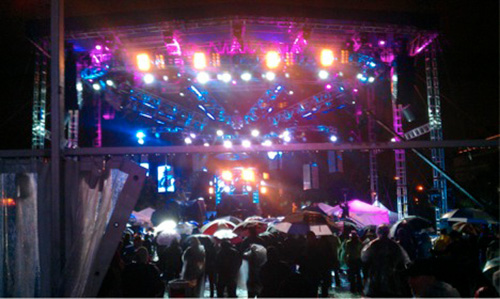 Beyond the obvious concerns of protecting expensive equipment from water damage, Dean also had to think about protecting the performers who would be dancing on a wet stage, should the show go on. The stage was covered in 'Marley' flooring, a slick, vinyl type of flooring used by dancers.
Dean put carpet down on the stage to protect the dancers and the band. To protect the gear, the crew used plastic, tie lines and tarps, all of which are part of their standard touring equipment. "Make sure you have them in place ready to be pulled over well before the drops come falling," Dean advises students. Despite their best efforts, the show was ultimately cancelled. Not all of the gear and lights belonged to the band, and some of this was not protected and was getting ruined.
While there's no solution to "Acts of God" like thunderstorms, live sound pros have to be prepared for the worst, Dean points out. In addition to having proper coverings for all of the equipment, Dean recommends that crew members have ponchos and extra dry socks and shirts.
Finally, Dean reminds his students not to trust others with their personal safety.
"Watch the roof and stage area with great vigilance. Pockets of water in the roof skin can spell danger if not taken care of. If there is wind, find safe shelter away from the stage. If you are hit suddenly, remember that your life is more important than any gear and seek shelter away from the stage area."
Want to know more about the Show Production degree at Full Sail? Read about it here.