Orlando's Tech Scene: Years in the Making
Published on Sep 12, 2014 by Amy Cassell
One thing that's tried and true about Central Florida is its theme parks – when you tell someone that you live in Orlando, their answer might be, "Oh! Disney World." Or Universal. And so on. But just as long as those theme parks have been a presence here, so has the technology industry. According to the Metro Orlando Economic Development Commission, travel and tourism is the region's number one industry, but the technology industry is right behind it at number two.
Technology is in film, entertainment, media, advertising, web development, simulation, aerospace, and so much more. And while everyone's definition of the word "technology" is different, one thing is always true: it involves creation and innovation.
"Technology is building and creating something; [it involves] people who are coding, building, and creating experiences," says David Glass, the founder/executive producer of OrlandoiX and the publisher of the Florida Technology Journal. "Technology to me is creative. It's consumer-facing; it's what you see in the parks and in the games you play. Orlando is a major, major hub for that."
According to David, one of the biggest technology sectors in orlando is entertainment technology, which entails everything that goes into creating the experiences you see at the parks.
"I think Orlando can be on the global stage for entertainment technology," says David. "Think about what you see in the parks: lighting, sound, automation, visual effects, interactive environments, computer simulation. The talent is here; [these local grads] are the people that are going to work for Disney and Universal and help create those experiences. Think of these parks as big technology companies."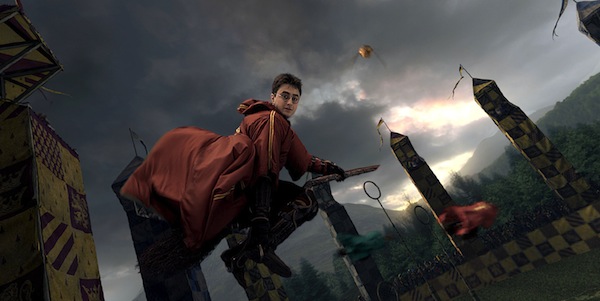 Full Sail grad Matt Kent helped develop the Harry Potter & The Forbidden Journey ride at Universal Orlando.
Central Florida companies also specialize in modeling and simulation, gaming, web development, animation, sports, and design, among other sectors, and many of them have just as much of a storied history here as the theme parks. Lockheed Martin – an aerospace, defense, and security company with more than 8,000 employees in its Central Florida facilities – opened their first office in the area in 1956. Global engineering and electrics powerhouse Siemens Energy arrived in the '80s, drawn by a business-friendly environment, easy access to transportation, and more, according to a company spokesperson.
There's also game development studio EA Tiburon, who have had offices in Orlando since the late '90s. ESPN tries out experimental new sports technology at both the ESPN Wide World of Sports at Walt Disney World and right here on Full Sail's Campus in the ESPN Sports Lab. Lake Nona's $2-billion Health Village has been in the works for more than a decade, and several companies specializing in military simulation have found a home in Research Park near the University of Central Florida.
Additionally, dozens of startups have sprouted up in Orlando's downtown tech corridor in recent years, where digital agencies, analytics firms, mobile app developers, business accelerators, and co-working spaces are nurturing a growing community of young entrepreneurs and other professionals who have left larger tech companies to branch out on their own.
"There's the Creative Village, SunRail, Amway Center, the Dr. Phillips Performing Art Center, and the new downtown soccer stadium," says David, who recently worked on Orlando Rising, a documentary about the city's tech scene. "This explosion is a combination of private development and grassroots activity."
you combine the region's established technology powerhouses with the new crop of startups, it's easy to see why the technology industry has become such a huge part of Central Florida's landscape.
So where does Full Sail come into the picture?
These companies are always in need of trained and qualified employees to support their projects. A recent article in the Orlando Business Journal, which featured data from the Metro Orlando Economic Development Commission, reported that Central Florida institutions graduate more than 10,000 technology students each year. The report also listed the 10 most popular technology degree programs in the area (based on the number of actual graduates) and an impressive eight of those programs were from Full Sail.
"One of our advantages is that we graduate students every month," says Bill Galbreath, Full Sail's Design and Technology Education Director. "So rather than having 200 students available twice a year, we have students every month. It's like 'on-time inventory,' but instead with 'on-time employees.' Our students are trained in a professional workflow so they can hit the ground running and contribute to a company quickly."
According to Full Sail's Career Development department, grads have recently been hired at several local tech companies, including EA Tiburon, Thumbprint, Cloudspace, the Harris Corporation, and Cubic.
"Local talent is key," says David, who is in the midst of planning the inaugural Orlando Interactive Experience festival (oiX), scheduled for October 2015. "and I think Full Sail (and Orlando) has the type of educational programming that aligns with market needs."
With the established tech companies already in town, plus the new ones continuing to launch here (mobile gaming giant Zynga announced it was opening a studio in Central Florida earlier this year, and Canvs, a new co-working space for technologists and entrepreneurs, opened this summer in downtown's Church Street Exchange), the employment opportunities for tech grads don't seem like they're going anywhere soon.
"I think the outlook in the coming years is really bright because government and various leaders have all come together to make this special," says Bill. "I think we're at the very tip of the iceberg and we're just going to get stronger and stronger."