Recording Arts Graduate Colin Leonard Wins Pensado Award
Published on Apr 2, 2018 by Stephanie Rizzo
Halfway through our interview, mastering engineer and Recording Arts graduate Colin Leonard's train of thought is interrupted by an incoming text from fellow Full Sail alumni Josh Gudwin. Colin is apologetic. He and Josh just wrapped Poo Bear's latest record, and they're currently working on an album for Brazilian pop star Anitta. Josh is wondering if Colin wouldn't mind double-checking the sub levels in the mix one last time before it goes to mastering.
"I work with a lot of Full Sail grads," says Colin. "Phil Tan was instrumental in sending me projects in the beginning of my career. I currently do a lot of work with Leslie Brathwaite and Fabian Marasciullo, and of course, Josh. Coming from a similar background and community means we collaborate well together."
Collaboration and networking are a key component of Colin's success. As the owner of the Atlanta-based studio Sing Mastering, he's worked on hundreds of projects by artists like Alessia Cara, Migos, Justin Bieber, Jay-Z, and more. But back when he was a new graduate, engineering was a secondary focus.
"My background is in classical and jazz music," he says. "I was playing in bands and producing music on the side just to make money. I was 22 years old writing beats for hip-hop artists. It wasn't very lucrative, but it allowed me to make contacts."
Those contacts led to a gig writing and mixing music for television. When a colleague asked if he had any experience in mastering, Colin figured he'd give it a shot.
"Once I tried it, I felt immediately that mastering was what I was supposed to be doing," he says.
From that moment on, he set out to build a business – a process that took years. Beginning with a small group of clients, he developed a two-fold strategy: First, he would put out work of the highest quality. Second, he would foster close relationships with clients built on trust and reliability.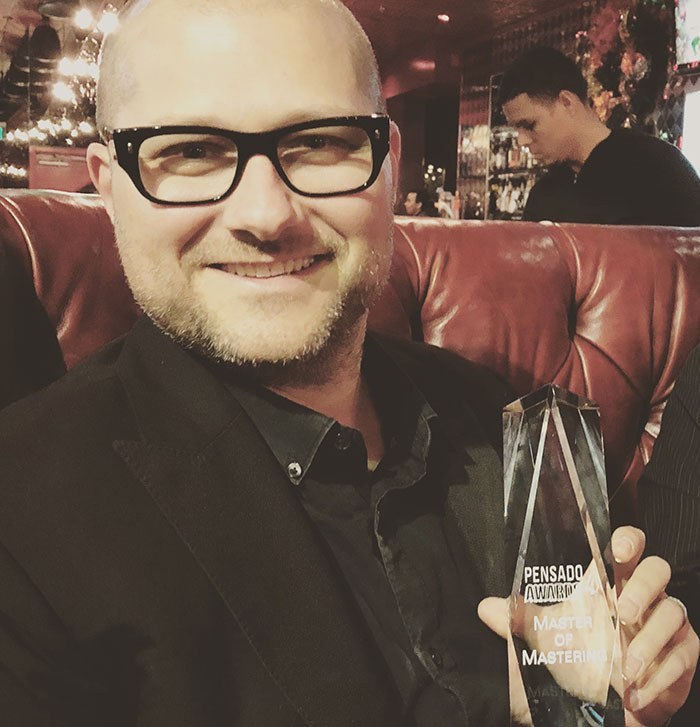 "The secret to my success isn't much of a secret at all," he says. "The mastering community is built on word-of-mouth recommendations. Your work has to be on point, and you have to be someone that people want to do business with."
Once Colin built up a solid client base, he turned his focus to embracing new technologies as a way to set himself apart from other mastering engineers. Over the last decade, he's developed and patented several unique processes, including an automated analog mastering service called Aria Mastering. Clients can log in from anywhere in the world and control the same equipment Colin uses in his world-class studio using a robotic arm.
"Aria is a cost-effective solution for clients who can't afford to send their music off to be mastered. It works for people who might need to do one or two songs versus a whole album. It's also completely on the client's own timeline, so it's a much faster turnaround," he says.
Aria allows Colin to reach a new network of clients – those who might not be able to work directly with him, but are still able to reap the benefit of his expertise.
Recently, Colin's industry achievements were recognized when he received a Pensado Award for Master of Mastering. The accolade is especially meaningful considering that voting committee is made up of many of his peers.
"The music is really important to me, and I focus on making it as good as possible. The whole team from Pensado's Place is positive and focused on bringing the recording community closer together, so to be recognized by them has been a humbling experience."