Student Film Spotlight: 'The Healer'
Published on Feb 7, 2013 by Amy Cassell
It was a self-help book that inspired Full Sail Film grad Alex Vo to write The Healer, the 2010 student film that he also directed. "It was called The Wounded Healer," says Alex, referring to the book, "and it explains the painful experiences that we deal with in life and how we can use those experiences to be a healer to others."
In The Healer, a young girl named Haley is constantly moving to new places with her mom to avoid her abusive, alcoholic father. Through facing so much drama at such a young age, Haley realizes that she has a gift: the power to become invisible and see pain and loneliness in others. The Healer mixes drama, superheros, and a few supernatural elements to create what Final Film Project Course Director T.J. Doctor (who also worked as a producer on the film) said, "one of the better projects at the time."
Working with a child actor, which can sometimes be difficult, wasn't an issue at all for the crew. "Tara [who played Haley] was awesome," says Alex. "The only challenge was trying to help her understand what it's like to mature at a young age. She was playing an 8 year old, but it was a character much more mature."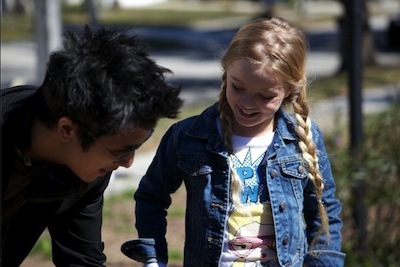 There weren't many other obstacles during shooting; according to Alex, the biggest challenge was having to switch around filming days because of some rain, and even that wasn't a major problem. T.J. agrees, recalling a crew that worked well together, both during shoots on the backlot, in the woods behind Full Sail, and off campus. (A few scenes were shot at the Assistant Director's house.)
"The crew also had a chance to utilize SteadiCam," said T.J., referring to a camera platform that mounts to the operator's vest, creating a smooth, floating shot. "It's not always used in student productions, so that was kind of a novelty."
Alex, who graduated in 2010, now lives and works in Northern California, where he's started his own small production studio that specializes in micro-documentaries. He's down work for companies including Netflix, Google, and Nokia.
The Healer might be a little bit emotional and dramatic, but an 8-year-old as a superhero and an encouraging ending makes it lighthearted and enjoyable. Check it out below.