Students are Encouraged to Dream Big in Full Sail's Fab Lab
Published on Jan 7, 2021 by Stephanie Rizzo
Simulation and Visualization students can access the lab to create custom parts for whatever they can imagine.
Students in Full Sail's Simulation and Visualization bachelor's degree program tend to think big when it comes to class projects. From a working quidditch broom fit for Harry Potter himself to an interactive helmet inspired by Iron Man, they're limited only by their imaginations — and their imaginations are expansive. Many of these projects require custom parts and fabrication, and Full Sail has built a space that caters to the needs of aspiring makers.
"So many of the parts we use on projects are unique," says Simulation and Visualization Program Director Rob Catto. "We don't need to search for the right piece. We designed a space where our students can make whatever they need."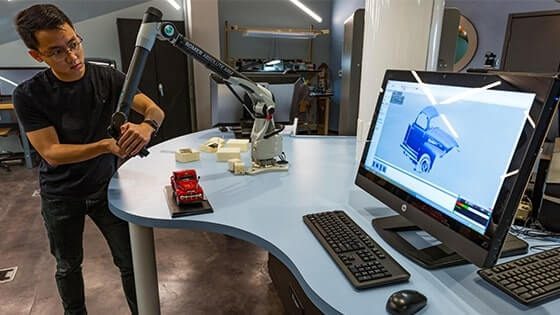 The Full Sail Fab Lab looks more like a workshop than a traditional classroom. Multiple 3D printers are clustered at one end of the room, and there's a desk with a laser scanner used to map objects in 3D. The back wall features a CNC milling machine for cutting out custom circuit boards and a soldering station where students can hardwire the boards after they've been cut. At the far end, traditional power tools like band saws and routers mix with less-typical pieces of equipment, like an injection molder and a laser cutter. Long, sturdy work tables in the middle of the room serve as projects stations.
The first class students in the Simulation and Visualization program take in the lab is a micro-controller course, where they're tasked with creating a simple handheld game — similar to the '80s game Merlin — using LED lights and a custom-made circuit board.
"They design the circuit board, and then they cut it out, solder all the components in, and program the game into it," says Rob. "We have five basic courses tied to learning how to fabricate things. That includes programming micro-controllers, learning to use modeling software, learning how to use the equipment in the room, and then putting it all together into one complete design project."
Once students have the lay of the land, they're free to use the Fab Lab to craft components for subsequent courses. For instance, if they want to 3D print a custom piece to modify VR headset, they can head to the lab, model the piece, and run the print.
Take a look inside the Fab Lab with Simulation and Visualization Course Director Pat Starace in the video below.
With all these resources at the students' disposal, it's not surprising that some of the fabrications grow beyond the scope of the Fab Lab. That's okay — Rob and his team created a separate space next door to the Fab Lab to highlight large-scale projects. The Simulation and Visualization Showroom also serves as an interactive archive of standout projects from previous grads.
"Fabrication is an essential part of what's happening in the world," says Rob. "We wanted to make a space where just about anything was possible."