The Art of the Pitch (And How to Win It)
Published on Nov 5, 2014 by Amy Cassell
Picture this: You're in a conference room and you've got about five, maybe ten minutes to sell your idea to a team of executives. After you're finished, someone else will come in and try to prove that their concept is better than yours. If the execs like yours the best, you win the project. You'll spend hours (sometimes days, even weeks) preparing for this single presentation, but it all comes down to just a few minutes of convincing a group of people that your agency is best for their job.
The idea of this – the pitch – would terrify some people, but grad Nathaniel Howe loves it.
"It's very serious and can be intimidating, but I love walking into that room and selling creative," says Nathaniel, who will be inducted into the Full Sail Hall of Fame early next year. "I love being able to get up and articulate my creativity to people; to get people fired up and make them believe in [our project]."
The 2002 Computer Animation grad is the Creative Director and Partner of the Beverly Hills, California entertainment branding agency Nathaniel James. Since opening their doors three years ago, they've worked on award-winning campaigns for HBO, Spike, The Discovery Channel, and more. The common thread between all of these campaigns: Nathaniel (and his team) had to win the pitch to get them.
We sat down with Nathaniel to talk about the pitch process. Here's what we learned.
Understand the brief.
Everything starts with a brief, which is the information the potential client provides about what they're looking for. This goes out to about 3-5 agencies, who will then compete for the job. "It's really sparse information at that point," says Nathaniel. "We really have to help them figure out what they need."
For a recent Discovery Channel pitch the brief asked agencies to brand/create television promos for the network's new North America special. It would be an effort that included coming up with dozens of designs, tag lines, and other assets to be used to promote the show.
"Before this, a lot of the Discovery Channel's nature shows were promoted the same way – show black, show typography, cinematic music, and Earth shots – and for this one they wanted to make it a little bit more irreverent and fun," remembers Nathaniel. "It was a process of making the show feel like a major event but also making it feel more youthful and connected as well."
Make a plan.
Agencies then have anywhere from a couple of days to a couple of months to work on a pitch, depending on the scope of the project. Sometimes the client will provide a small budget for this, but for the most part, an agency's prep for a pitch is all out-of-pocket. This means that there's a chance that you'll pour money and man-hours into a pitch that won't even land the job.
"That's the balancing act with pitching," says Nathaniel. "It's how much effort do you put in to make it look good without getting so far down the road with one direction that it could change at the drop of a hat."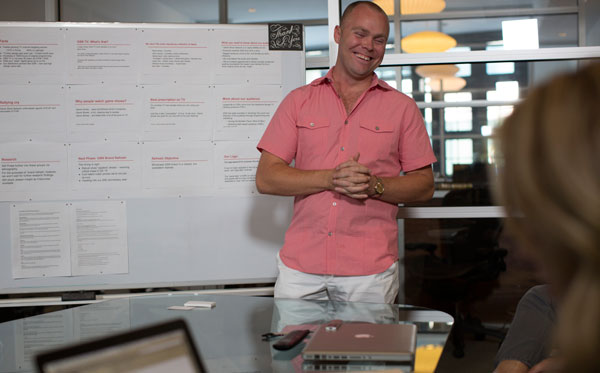 Be selective, but inspired.
Preparing for a pitch doesn't mean you have to have every single detail of the project figured out. According to Nathaniel, what's most important is the big picture – the direction and the strategy behind the concept – and being able to get the client excited about how things can end up. Nathaniel, who worked as a freelance designer and animator before starting NathanielJames, is deeply involved in this process.
"I'm constantly inspired by what clients bring me to work on," says Nathaniel. "If I don't find what's interesting about their project then nobody else will either. I think it's important to learn how to take a brief that's not very complete or creative and find something exciting in it."
Give the client options.
For the Discovery Channel pitch, Nathaniel and his team created multiple campaign lines and promo images to present to the executives. That's one of his keys to winning a pitch.
"Some people will never pitch more than three ideas, but I'd rather be able to talk through [multiple options] and show the client that we can hit different looks and multiple types of styles," says Nathaniel.
Explain everything well.
The actual pitch is the moment where it all comes together, when the storyboards and design mock-ups are shown to the client. At the Discovery Channel pitch, Nathaniel showed the network executives his agency's ideas for promoting North America, a series of shots that included colorful maps, Instagram-like photos of nature, silhouette designs of animals, and more. Each sketch was accompanied by a write-up that walked the client through the concepts and explained the psychology behind why they chose to do what they did. While you never see that writing on the storyboard, explaining how each piece of work is part of the big picture is just as important as showing the work.
Get to the point.
Nathaniel's secret to success? It's not just the concept, but the way you speak about the concept.
"When I walk into a pitch meeting I try to take what everybody is thinking and speak directly to the throat of that," says Nathaniel. "A lot of people walk into the room and they have some long intro and they've lost everyone before they even get to what's important. I try to start with the end in mind. I put myself in their shoes and I try and look at it from a different perspective and speak to those issues right up front."
For the Discovery Channel, Nathaniel's strategy worked. Nathaniel James won the project, and the series of North America promos his team worked on ended up winning a Silver Telly award.