The Essential Elements of a Field Recording Toolkit
Published on Dec 8, 2014 by Stephanie Rizzo
Back when 2015 Hall of Fame Inductee Ric Viers was a student in Full Sail's Film program, he spent a lot of time dreaming about gear.
"I'd go through catalogues thinking I need this and this," he recalls. "When I was at Full Sail, we were taught on two inch tape. We actually had to grab a razor to splice it, and we thought it was amazing technology."
A lot has changed since Ric graduated in 1996. He's risen to become one of the top independent sound designers providing effects for movies, television, games, and more through his company Blastwave FX. Technology has evolved and the sound business has gone digital. Now, any number of gadgets can help you get the sound you're looking for, no razor blade required. Still, Ric prefers to keep it simple when recording in the field. We asked him to share what's in his field recording toolkit.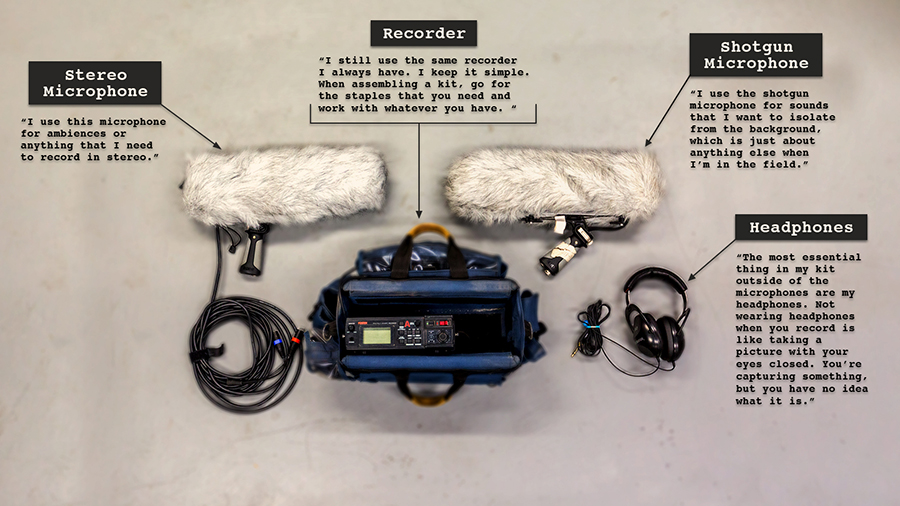 For starters, Ric brings two microphones along when he's working in the field. He uses a stereo microphone for ambiances and any sounds that move through the landscape. "Let's say I'm recording glass crashing and being strewn all over the floor," he says. "It's going to go from left to right, or there's going to be space to what's happening, so I'd use the stereo mic for that effect."
He brings along a shotgun microphone for sounds he wants to isolate from background noises. With a few exceptions, Ric uses this mic almost exclusively for field recording. "In studio, sometimes I'll use a shotgun microphone, but it's only if I want a specific sound," he says. "I use small or large cardioids in Foley, since I don't have to be as directional because I'm in a quiet room."
Ric also packs a good pair of headphones, which, in addition to helping him hear nuances in a recording, also help him locate a sound's origins. "A lot of times when you're recording, you have to find the sound source. You have to move the microphone to find it," he says.
Sometimes, this can be more complicated than it seems. "Your eyes will tell you, 'Okay, it's probably right here.' But your ears will say, 'Yeah, it looks like that, but it really sounds best from here.' The only way you're going to know that is if you've got headphones on to help you pinpoint where the sound is coming from."
Finally, Ric packs a recorder, the same one he's been using for years. "One of the mistakes I made when I first started was thinking I had to have the best gear. You think you need that stuff, but you don't." Ric suggests buying what you can afford to start and then working your way up from there. There's an art to recording, one that doesn't necessarily hinge on the latest and greatest gear.
"I believe that technique always trumps technology. Focus on your craft. I'm familiar with the equipment I use, but I don't think that I work for the tools. The tools work for me."