The Future of Mobile Development: Wearable and Connected Devices
Published on Sep 4, 2014 by Stephanie Rizzo
Mobile Development Course Director Mike Celey is excited as he pulls out a small cardboard box and takes what looks like a circuit board from it. We've been talking about potential changes in the Mobile Development campus program to include a class on connected devices—basically anything that can connect to a phone via Bluetooth—from watches and fitness trackers to a device that alerts you when it's time to water your houseplants.
"We're looking to do more work with open source hardware to interface with mobile devices," he says. The circuit board is peppered with LED lights. "I actually had a student build this connected device this month."
Mike explains that the circuit board is actually a piece of open source hardware called an Arduino board. Designed to interact with the environment and other devices, developers can load their own code onto the board and easily tailor the device to their needs, like an electronic blank canvas. As he's talking, Mike pulls up an app on his phone. He touches a button on the app and one of the LED lights illuminates. He removes his finger and the light goes dark. As simple as a few blinking lights are, it's a neat trick. Mike explains that this board is actually a prototype. His student, Andrei Birsan, has developed a Bluetooth app to control an automated toy tank. On this prototype board, the lights correspond to direction and speed.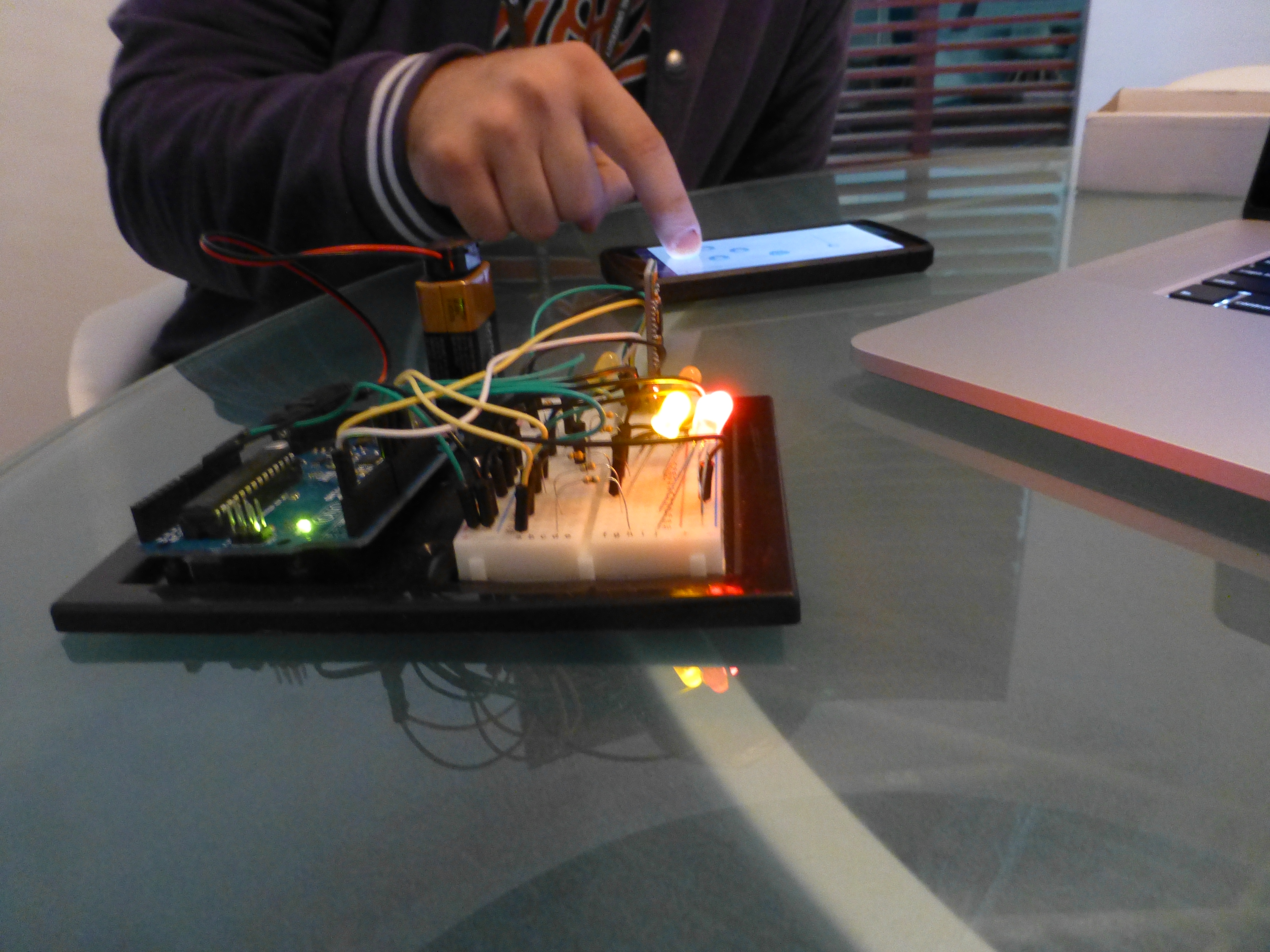 Mobile Development Course Director Mike Celey demonstrates student Andrei Birsan's prototype.
"This is actually the project that got our department interested in doing more work with connected and wearable devices," Mike says. "It's something that employers are asking for more and more, to be able to develop apps that allow gadgets to interact via Bluetooth."
Looking at the mobile development market, that makes sense. Wearable tech and connected devices are having a moment. In 2013, the developers of the Pebble smartwatch managed to raise over $10 million through Kickstarter, making it the most successful product funded up to that point and spurring big names like Samsung to develop their own smartwatches in response. Fitness trackers like the FitBit and Nike FuelBand are becoming more and more ubiquitous, and high-end products like Google Glass have stretched the imaginations of both developers and consumers. There's a sense that we are truly living in the future, a point in history where Average Joe's gear is indistinguishable from James Bond's.
"I think it's about people looking for the next big thing," says Mike. "When smartphones came out, people suddenly had the advantage of a fully functioning computer right in their pocket, which allowed them to do a lot more things, and obtain a lot more information on the go. Now, phones have hit their critical mass. So what's the next big thing?"
Mike, who tried out Google Glass for a while, points out that some wearable devices might carry a stigma. Compared to something like augmented reality glasses, watches are a little more normal since lots of people already wear them. "Smartwatches are a way to take the information from your phone and make it more immediate, without interfering with the way you interact with other people," he says.
Beyond wearables, there's a whole host of connected devices on the market intended to make life easier. It's now possible to control your thermostat, lights, DVR, and home security system all via Bluetooth or wireless connection. New parents are using connected devices to turn their phones into video baby monitors. Android is now being used in cars to control navigation and streaming audio services. A San Diego based company recently announced Cue, a device that can check your blood for influenza or assess your hormone levels and deliver the results right to your smartphone or tablet. This is just a small sample of what's available, and more connected devices are on the way. This is great news to mobile developers according to Mike.
"Because phones have been around for a while, it's really hard to get discovered in the app store due to flooded market. Now people are able to take what we teach in the Mobile Development program and apply that to all these different wearables and connected devices." As trends shift toward external devices, it gives developers more freedom to innovate apps that aren't restricted by a phone's hardware.
Check out this video of Mobile Development student Andrei Birsan's Bluetooth controlled tank in action.