Two Grads Hired to Work on ESPN's Virtual Technology
Published on Sep 18, 2012 by Amy Cassell
Just in time for college football season, ESPN has added two more Full Sail graduates to its team: Leslie "Alex" Gilbert, a 2012 Digital Arts & Design graduate and Edmond Burkhart, a 2008 Computer Animation grad, will be working as concept developers on ESPN's virtual technology.
The virtual technology software is a real-time graphics rendering engine that allows the grads to digitally manipulate live game footage. It's been used by ESPN since 2006 on a variety of different applications to add virtual graphics into shots during a live broadcast. ESPN augmented two jib cameras for College GameDay last year and this year, have expanded their staff to include a jib crew on the Saturday Night Prime game that airs on ABC.
"ESPN's ongoing collaboration with Full Sail University has brought several innovative advancements that enhance the sports fan's experience," says Aaron Thiel, Associate Director, Creative Technology Solutions, ESPN. "We are delighted to welcome Alex and Edmond, two more Full Sail grads, to our team."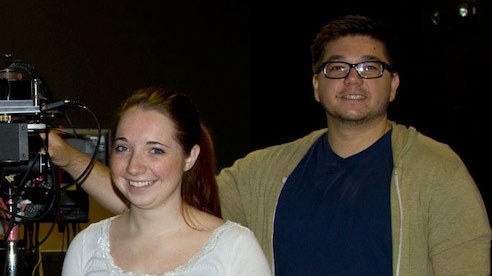 Alex and Edmond join Jason Black and Erik McGrew, a pair of Full Sail graduates who were hired by ESPN last year as concept developers to work on the same software. Jason and Erik were recently back on campus to train the new hires.
"It's an amazing feeling not only because ESPN is such a recognized organization, but also because I get to work with a great group of people on a job that is directly related to the education I received at Full Sail," says Edmond.
Full Sail and ESPN have collaborated since 2010, when the Full Sail University Sports Lab powered by ESPN was established. It's a combination learning facility-live production space on campus where ESPN crews can produce original content for their own television programming and other media outlets.
Other grads currently working at ESPN include Marissa Forcina, Clint Jordan, Sean Corrigan, and Nick Buckley, who work on the 1st & 10 technology. College GameDay airs on ESPN every Saturday morning at 10 a.m. during the college football season; the program's opening sequence was filmed right here on Full Sail's backlot in 2011.