Who Needs Hollywood? Makeup Artists Conjure Monster Looks with Kitchen Products
Published on Oct 25, 2013 by Full Sail Blog
More than 70 campus students huddled in the library Tuesday to watch the terrible transformation of three young women into a zombie, a skeleton, and a mummy.
The three girls were models for makeup artists Kim Carlisle and Jared Williams, who were demonstrating easy and inexpensive makeup techniques for filmmaking. Carlisle and Williams teach Makeup for Motion Pictures within Full Sail's Film bachelor of science degree program. Although the makeup artists did use a few special makeup products (such as "tooth black"), many of the items used to create the effects are inexpensive goods found in your local grocery store.
For instance, to create the mummy, Carlisle first glued coffee-stained bits of paper towel onto student Dawnette Nicoll's face (see below). The 'glue' was a mixture of corn syrup and flour (rather than latex). For the mummy's wrappings, Carlisle used cheesecloth cut into strips and glued together with spirit gum – a common item in Halloween stores. Cream and powder makeup was also used to create a more dramatic effect. Carlisle used black cream makeup around Dawnette's eyes to make them look sunken.
"Anywhere you put a dark color will make it look like it's receding," explained Carlisle.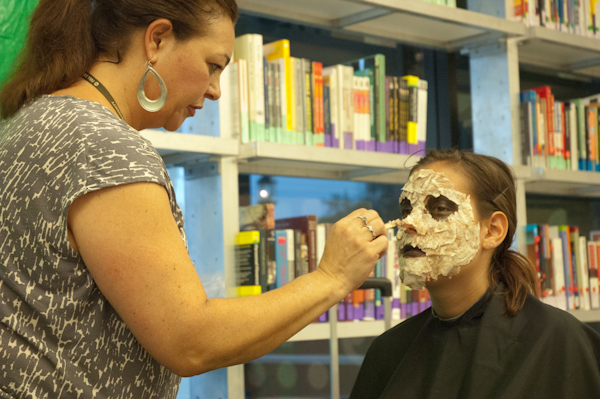 She dabbed yellow and green makeup over the towel bits to give them a moldy effect. Finally, she powdered the strips of cheesecloth with "rotten stone" colored powder (See gallery below).
The zombie was also created using some basic grocery items. Williams pre-mixed a "gelatin prosthetic" by heating two packets of unflavored gelatin and two tablespoons of glycerin. "Let it cool and solidify, and then heat it up again as needed," says Jared.
After being applied to the face, the end result "looks like ripped pieces of flesh," says Williams. Add color as desired. "I like a really realistic looking flesh-toned zombie," adds Williams.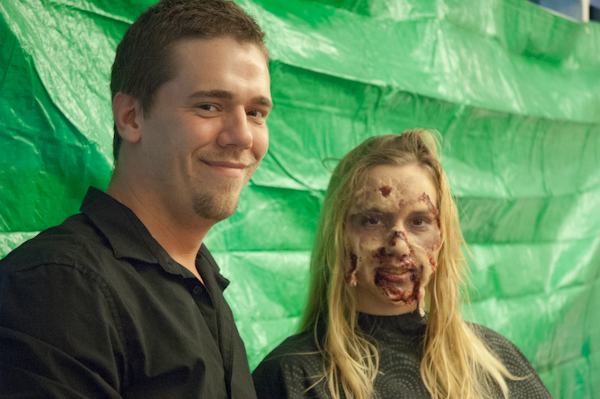 Oh, and a few final touches for your zombie? Have them run conditioner through their hair to make it nice and greasy – and mix a little red or purple food coloring into some mouthwash and have them gargle away! For more specific instructions on these monster looks, contact Kim Carlisle or Jared Williams.