Disney Music Group VP of Marketing Rob Souriall on the 'Frozen' Soundtrack's Success
Published on May 21, 2014 by Amy Cassell
When the soundtrack to Disney's Frozen was about to be released last year, Disney sales executives estimated it would sell about 200,000 units, which was based on comparable first-year sales from the soundtrack to the 2010 Disney film Tangled.
Rob Souriall, Disney Music Group's Vice President of Global Marketing, took a risk and told them they were wrong. (And while he was quick to point out that he considers Disney's sales team the best in the industry, he admitted that he still has to push them sometimes.)
"I thought, 'Are you kidding me!?'" said Rob. "Disney, princesses, a great story with sisters, animation, comedy, adventure and fun – this movie is the quintessential example of what Disney is great at. I said to them, 'I'm telling you guys, this movie is going to outperform.' I had to fight to get them to believe me and go with me."
Rob had the right idea: To date, the Frozen soundtrack is this year's top-selling album overall, it's gone triple platinum, has been streamed more than one billion times, and it just surpassed The Lion King as the highest-selling movie soundtrack of all time.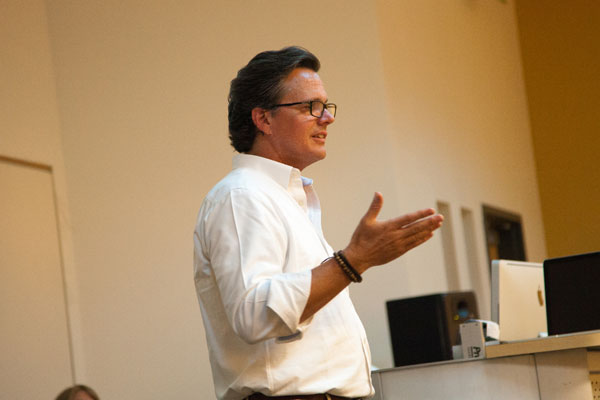 Disney Music Group's Rob Souriall on campus.
Rob spoke to a group of students on campus Monday afternoon about his 27-year career in the music industry and his current work for the Disney Music Group. Rob oversees the marketing of artists and releases across all of Disney Music Group's properties, which includes Disney's movie releases, Hollywood Records, and more. His presentation included his take on music trends today, his advice for succeeding in the industry, and some insight into Disney's most successful music release of the year.
Rob shared a few cool stories about the Frozen soundtrack, his team's marketing strategy, and and how the album is only going to continue to be successful. Here's what we learned:
Disney Music Group predicts that the Frozen soundtrack will sell another 1.2 million units in the U.S. between now and September.
In order to create buzz for the soundtrack's first single, "Let It Go," which was originally performed by Broadway star Idina Menzel, Rob's team had singer Demi Lovato record a different version of the song that was released as a single before the soundtrack came out. "Musically, Demi's song was done a little more mainstream," said Rob. "It was something pop radio might be a little more open to, and with her built in fan base, we knew we'd have a big publicity and social play. It helped us roll out an asset before the film opened."
There are currently 60,000 user-generated-content videos related to "Let It Go" on YouTube, which has accounted for more than 600 million streams. Since Disney is now claiming their compositions and master recordings on YouTube ­ "that means that any time somebody decides to sing a cover version of our song, or they shoot a video and use our track or master recording, it goes into a massive database, gets flagged on the back end of YouTube, and if that user sells advertising around the video at all, we now get a larger share of that revenue," said Rob.
Disney Music Group will be re-releasing a song-only version (no score included) of the Frozen soundtrack later this year. "We're having Josh Gad, who was the voice of Olaf, record two new holiday songs with new lyrics," said Rob. "It's a prime example of how our company operates," said Rob. "We'll say, Frozen is blowing up, it's the biggest thing we have. We've got all this momentum and we need to capitalize on it."
In addition to that new release, rumors have been circulating that Elsa (Frozen's princess) will appear on episodes of ABC's fairy-tale drama "Once Upon a Time" next season. While Rob couldn't officially confirm this, anyone who watches the show thinks it's a pretty safe bet.