Inside Full Sail's VR/AR Lab
Published on Sep 19, 2019 by Stephanie Rizzo
Students in Full Sail's Simulation and Visualization program don't just learn how to make virtual reality — they also learn inside virtual reality.
Dan Mapes knows a thing or two about virtual and augmented reality. He's been involved with the technology since its inception in the late '80s.
"Back then, it was half a million dollars worth of equipment to create a lot of garbage," he recalls. "VR died off in the late '90s because [no] industry could benefit at that cost point."
Luckily, Dan never stopped believing that virtual reality would make a comeback — and it did, in a big way. Today, he runs Full Sail's VR/AR Lab, a space where students in the university's Simulation and Visualization bachelor's program learn to develop applications for different pieces of VR and AR hardware.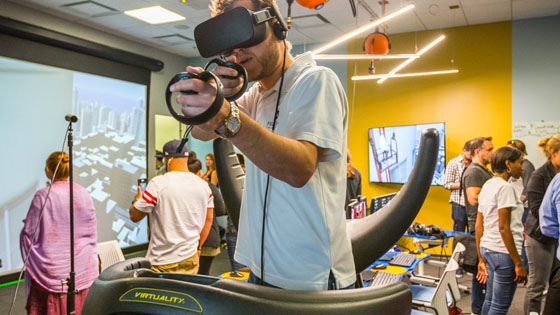 Inside the lab, students have access to headsets from a variety of manufacturers, including Oculus, Magic Leap, Microsoft, HTC, and more. A giant green screen dominates the back wall of the space.
"We use the green screen to record students in their final projects. They can go into VR, but we can also see them in VR. We record them inside a simulated environment, and that video becomes a portfolio piece they can use to show off their work," says Dan.
Elsewhere, building materials from out-of-commission arcade games serve a unique purpose — they prevent testers from running into walls when they're wearing VR headsets. Dan says the faculty got the idea to pull old game cabinets out of storage and repurpose them after a few incidents.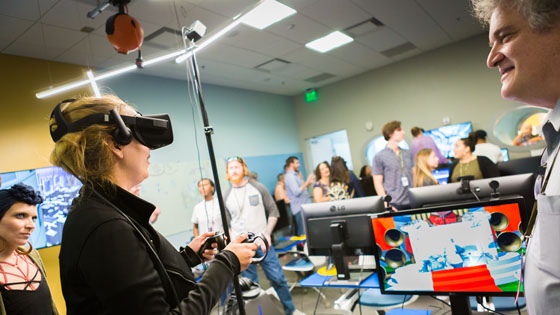 "Some of these headsets still bear the marks," he says, laughing. "The technology has evolved, but humans haven't evolved that much."
Dan isn't just teaching students how to make virtual reality; he's also conducting some of his lessons inside virtual reality. One of the courses students take is Linear Algebra, a type of game math that allows developers to understand the way objects move and interact in computer applications. Dan developed a standalone application that teaches the core concepts of the course. Students are guided through various exercises by a robot that sounds suspiciously like Dan.
"I was trying to give them a little piece of myself that they can take home and use to study," he says.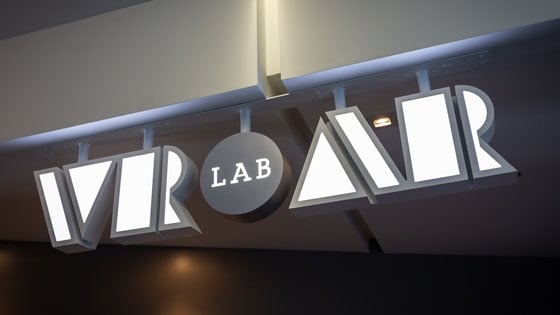 Today's VR and AR equipment isn't just sleeker, it's also more affordable, with headsets costing a few hundred dollars instead of thousands. At that price point, more and more companies are turning to the simulation industry to save on training costs.
"I should mention that we don't make games here," says Dan. "We're using gaming technology and the same techniques and programming that people use to generate games, but our focus is on training, accessibility, and education."
For their final project, students are encouraged to create an application that helps fill a training need in an industry. Often, these projects are born out of students' own experiences. Former projects include a program designed to help train dental assistants (created by the son of a dentist) and a simulation designed to train military prison administrators (created by a former member of the military). Although simulation is most commonly associated with the military and medical trades, Dan says that the concepts he teaches in the VR/AR Lab are applicable to virtually any type of business, from retail to urban planning.
"The future is bright for this technology, and the industry is going to need people."