Southern Migration: The Rise of Atlanta's Film and Television Industry
Published on May 26, 2015 by Stephanie Rizzo
Pictured: Atlanta's Peachtree Center.
While 2002 Film grad Dwight Campbell attributes his success to the usual things—a little luck, good work ethic, perseverance—he'll be the first to tell you that sometimes it comes down to being in the right place at the right time. Case in point: while many of his friends set their sights on Los Angeles or New York after graduation, Dwight looked to the South.
"When I was in school, I'd go out and do little jobs on the weekends, whatever I could to gain experience. I made some connections with people living and working in Atlanta, Georgia. I wanted to do music videos, and Atlanta was the market for that, so I moved here in 2003."
Music videos led to a freelance gig with Turner Broadcasting Systems' film and video unit, which led to jobs in film and television. Over a decade later, Dwight's a second assistant camera operator with over 25 credits to his name, including The Vampire Diaries, Furious Seven, and The Hunger Games: Mockingjay Parts 1 & 2.
"Before, L.A. was the place to be, but there are more movies being shot here in the South than in Hollywood. It's no longer about living on the West Coast, especially if you want to be a crew-based person. If you want to be an actor or a screenwriter, then you may want to go out to L.A. because most of the projects originate there. But productions happen in places like Atlanta and New Orleans," says Dwight.
According to a survey by The Hollywood Reporter, Georgia ranked third among U.S. production centers in 2013, right behind Louisiana and California. And the trend of productions moving south shows no sign of slowing down.
While Georgia has offered tax incentives for the film and television industry since 2002, the passage of the Entertainment Investment Act in 2008 made it so productions need to spend just half a million dollars— peanuts by Hollywood standards— in order to qualify for a 20 percent tax break. Since then, studios have flocked to Atlanta, bringing brick and mortar infrastructure with them. This makes the city an enticing production locale for indie films as well as traditionally funded projects. Adjacent businesses have also grown around the industry, with catering, equipment and casting companies all flourishing.
Atlanta also boasts a unique look that translates well to the latest batch of post-apocalyptic, sci-fi, and dystopian films and television shows that have been gaining in popularity in recent years. A reflection of the culture boom that redefined the area during the 1970's and 80's, many of the buildings that make up the downtown skyline were designed by local architect John Portman. A practitioner of the modern architecture movement that dominated much of the 20th century, Portman's buildings reflect the clean, austere aesthetic of a society defined by rapidly evolving technology. In other words, the buildings look futuristic, and can be easily manipulated in post-production to appear more or less so. The Peachtree Center, considered by many to be Portman's defining work, features a series of identical towers connected by sky bridges, and serves as the heart of Atlanta's business and tourism district. The complex features heavily in Insurgent, the second installment of Lionsgate's popular Divergent series.
Another aspect of the city's appeal is the sheer diversity of its landscape. From the mountains of North Georgia to the beaches of Savannah, the area around Atlanta is incredibly diverse, and though studios can fake any setting on a soundstage, there's still no replacement for the real thing.
"For instance," says Dwight, "A lot of people don't know about the Bellwood Quarry. It's a big hole in the middle of the city. The Walking Dead filmed there. We shot some scenes there for The Hunger Games. You can go from from the beach to the mountains in a matter of hours. There's farmland, you have urban landscapes, there's just so much."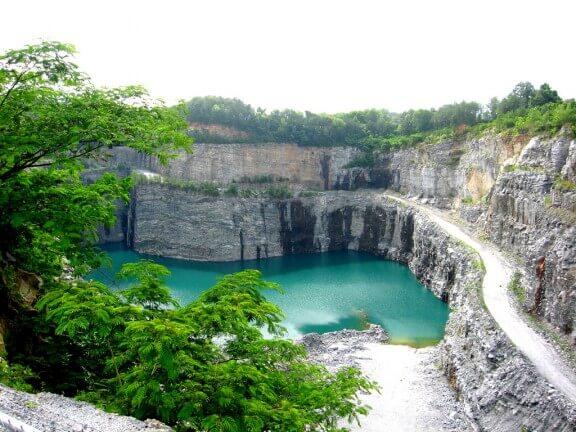 Even for grads set on taking their chances in California, Dwight says Atlanta is a good first step in getting there, especially considering L.A.'s strict union guidelines.
"Unlike California, Georgia is a right to work state, so technically, you don't have to be in the union to work here," he says. Although most production companies and studios prefer to hire workers in the union, opportunities do come up. Dwight recommends being persistent and staying involved with the scene.
"A lot of times, they don't have enough crew in a smaller market. You stand a better chance of showing up on set and getting hired here."