Facility Spotlight: Full Sail's UX Lab
Published on Jan 21, 2020 by Bridgette Cude
The technology, skills, and philosophy that make this space a thriving user experience testing facility
"The whole point of creating tech is so that people can enjoy it," says Dr. Shawn Stafford. As a Course Director at Full Sail University, he teaches students about human factors, usability, and statistics, using the UX Lab as a primary learning space. Focused on teaching students how to measure – and improve – users' tech experiences, the UX Lab is just one of several tech facilities on campus where students get hands-on education in emerging technologies, including a Smart Lab, an AR/VR Lab, and a Simulation Lab.
In the UX Lab, students measure how people enjoy their interactions with tech, and depending on the client's needs, provide them with data or compile it into an actionable intelligence report. To do this, the space is outfitted with unique tech that enables students to perform a wide range of unique tests. For example, facial expression tracking technology helps students get feedback from a test-group participant without interrupting their experience while using a website, watching a trailer, or playing a video game.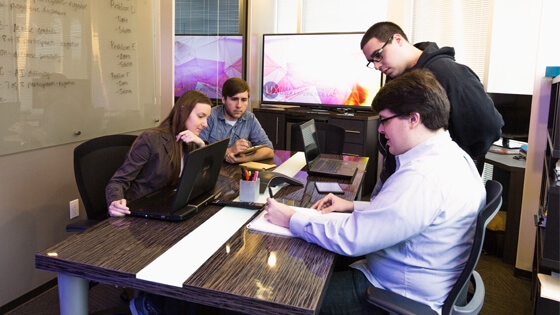 "It is one of the key technologies that we're going to be using in the future. It's also fascinating to see the ethics side of it. What does it mean to track a person's face and know what they think without having to ask them?" explains Shawn.
Eye-tracking technology also helps students study user attention and performance. The UX Lab is equipped with both desktop-mounted eye trackers and mobile eye trackers, which allow flexibility to study products in the real world. Technology similar to a lie detector test also allows the lab to monitor a participant's emotional response by measuring the activation of their sweat glands.
But Shawn says what students learn in the UX Lab is about more than just the tech. "We try not to complicate tests with technology unless the technology adds something to the test. Oftentimes it does, sometimes it does not."
Instead, students in the UX Lab rely on rigorous methodology, organization, and structure – the types of skills students need to succeed in career roles like User Researcher and Usability Analyst. It's an environment of constant improvement and a passion to get it right, and it draws a variety of companies to test the user experience of their products at Full Sail.
Since opening in 2015, the UX Lab has facilitated an average of 10 to 20 research projects a year from outside companies looking to learn from user experience testing. That includes products from healthcare, video games, security, entertainment, and a lot more. Students create and perform these tests, gaining real-world experience working with a client and an actual product. For example, CD Projekt reached out to Full Sail's UX Lab to run user experience testing on The Witcher 3: Wild Hunt, a game which would go on to win recognition as game of the year from IGN, GameSpot, The Game Awards, and Game Informer, to name a few. "Our students ran the whole thing with our guidance and with our facilities, and then they ended up on the credits," says Shawn.
"The difference between our lab here and any other research lab is the speed with which we can act. Full Sail is just extremely fast-paced, and that attitude carries over to the UX Lab as well." He explains that instead of having a traditional academic semester to complete a project, Full Sail students operate at a pace that's much more consistent with the actual speed of the tech industry.
"What are we going to have at the end of this month? We can take that a step further and go, 'What are we going to have at the end of this week?' We want to run this entire thing, finish it, deliver the results on Friday, and have new feedback on Monday, and run again," Shawn continues. "That's not something you would get at any other university."
According to Shawn, that's not the only thing that sets Full Sail's UX Lab apart from other research facilities. "We tend to have a little bit more creativity in the type of students that come to Full Sail," he says. "That allows them to not only deliver fast but also think outside the box."