Innovation on Demand: Technology Labs at Full Sail
Published on Oct 17, 2022 by Jess Reider
These spaces highlight Full Sail's commitment to embracing new technologies.
Full Sail has grown a lot in the past 40 years, and a big part of that growth has been the university's willingness to embrace the latest technologies as a core part of its curriculum. As a result of this forward-thinking approach, Full Sail has added nearly a dozen tech-focused degree programs in the last decade — offering future technologists the chance to study everything from cloud data to simulation.
New degree programs require new tools and room to create, and today, Full Sail is home to many spaces that cater to emerging researchers, developers, makers, and more. Each lab has been designed and maintained to reflect current industry standards, and each one contains the tools students need to start building a portfolio of professional projects. Here's an overview of some of Full Sail's most impressive tech labs.
The VR/AR Lab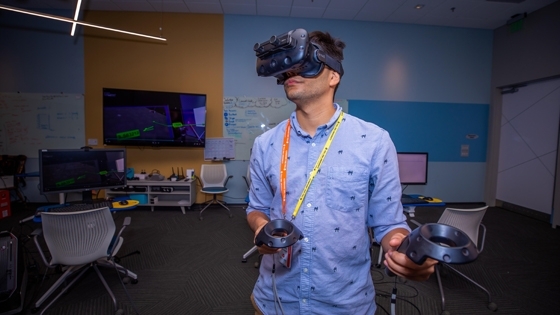 The VR/AR Lab provides students access to nearly every available piece of VR or AR hardware currently on the market. Here, they learn to create custom programming for these devices that can be applied to a variety of industries such as military and defense, commercial and retail, or medical simulations. A green screen rounds out the lab and helps programmers and spectators to better visualize virtual space.
The Fab Lab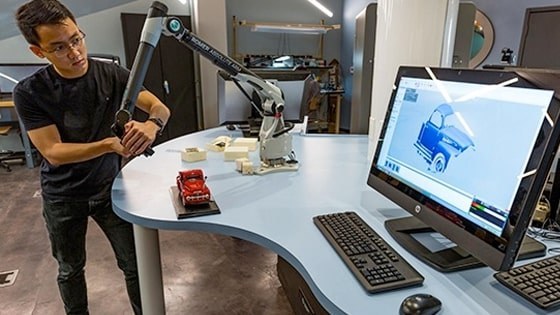 Students in Full Sail's Simulation & Visualization bachelor's program have access to this classroom-slash-workshop. The space was designed to cater to the needs of emerging fabricators, and it features tons of equipment like 3D printers, an injection molder, CNC milling machines, laser scanners and cutters, and a variety of power tools. With access to so many resources, students never have to search for a part. Instead, they can make custom parts for whatever they can dream up.
The Simulation Lab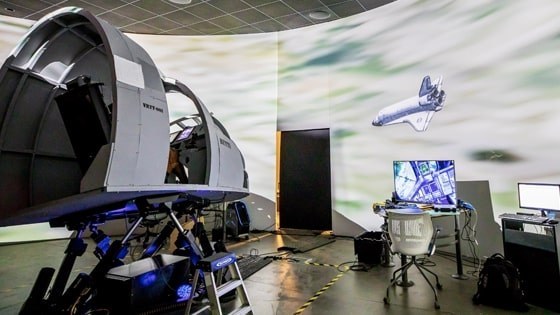 The Simulation Lab combines elements of a large-scale simulator ride, complete with a fiber-optic network for processing and projection mapping to draw spectators into the fun. The lab features a motion platform that can be skinned and programmed to mimic almost any experience. Past projects include simulations of the Millennium Falcon, a giant mech warrior battling through a dystopian landscape, and a space shuttle landing.
Healthcare Technology Lab Powered by AdventHealth University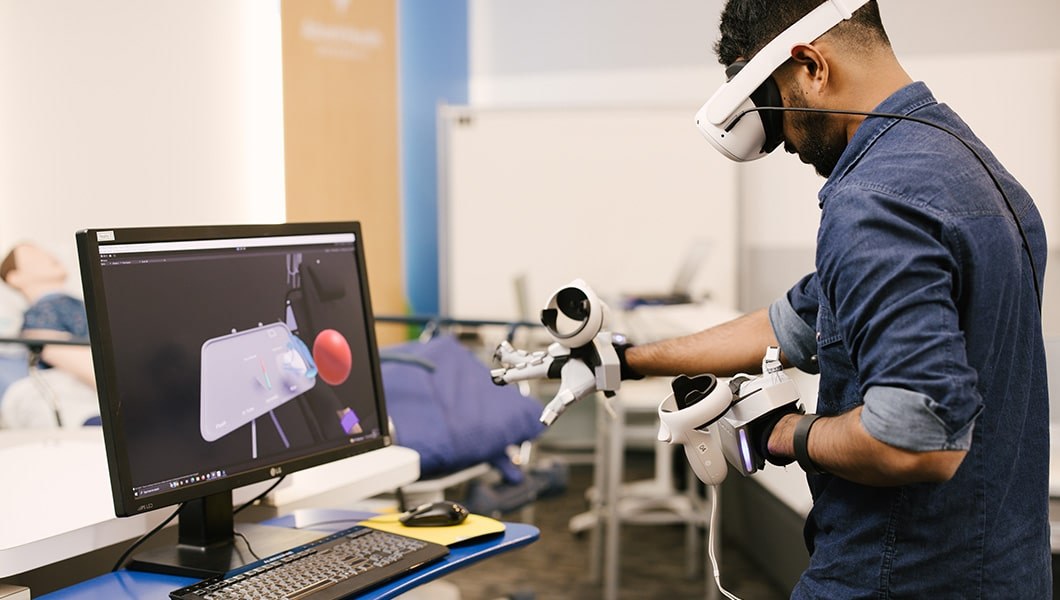 Focusing on the intersection of technology and healthcare, the Full Sail University Healthcare Technology Lab Powered by AdventHealth University is designed to give the teams at Full Sail and AHU a space to develop innovative solutions to enhance patient safety, training for nurses and other medical professionals, and collaborate on joint healthcare research projects. Accessible to students in Full Sail's degree programs in emerging technologies as well as students in a variety of AdventHealth University degree programs including Occupational Therapy and Nursing, the lab allows students to explore innovative healthcare applications and get hands-on experience with access to industry-standard equipment and technology including a Stratasys F770 Large Format 3D Printer.
The UX Lab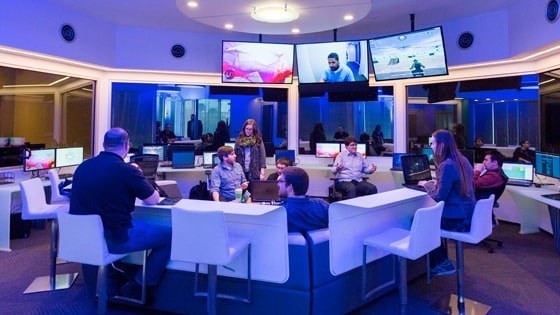 The Full Sail UX Lab is a space where students in the Game Design master's program can run tests and compile data to improve a game's overall user experience. The lab features equipment designed to measure players' biometric responses to a game — from heart rate to eye movement. Clients from around the world come to the UX Lab to have their games, apps, software, and other products tested. It's a place where students can gain real industry experience working with products from triple-A game studios, Fortune 500 companies, and more.
The Smart Lab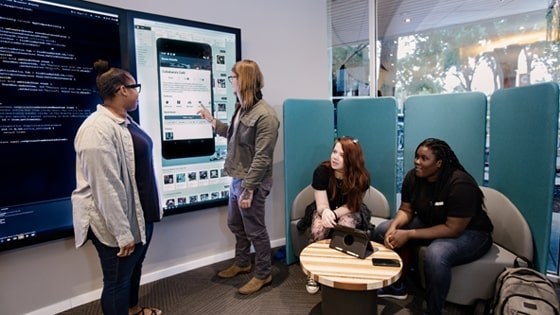 Full Sail's Smart Lab is a dedicated learning facility for students that features the latest technology solutions in homes, wearables, and more. The lab features a wide range of wearable and portable devices, a touchscreen hosting interactive applications, as well as connected household technology including thermostats, appliances, and televisions that allow students to develop apps for the next generation of smart homes.
Fitness Technology Lab Powered by Echelon Fit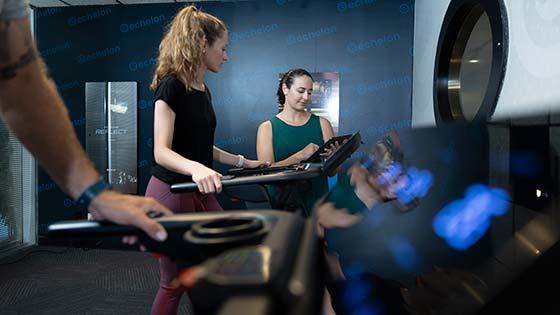 The Fitness Technology Lab Powered by Echelon Fit is a proud partnership between Full Sail and Echelon Fitness. The on-campus lab environment gives students in Full Sail's emerging technology degree programs the opportunity to participate in innovative research initiatives centered on enhancing Echelon equipment and features, as well as the development and implementation of new features for different product lines and fitness and health solutions. The lab itself is home to some of Echelon's most high-powered fitness equipment including Connect Row-S rowing machines, a Connect EX-5 smart bike, Connect Stride treadmills, and an Echelon Connect Reflect Touch 50" smart mirror.